John Borg - Wedding Celebrant Hervey Bay. Wedding Celebrant Maryborough.Fraser Island,Gympie, Noosa.Bundaberg Wedding Celebrant. Agnes Water and Surrounds.
I am a qualified, professionally trained and authorised Wedding Celebrant. I am based in Hervey Bay on the beautiful Fraser Coast and available as a Wedding Celebrant within the larger Fraser Coast and Sunshine Coast area, Caloundra,Maleny, Montville, Noosa, Gympie, Rainbow Beach in the south, to Childers, Bundaberg, Bargara,Emu Park, Moore Park and Agnes Water in the north and including Maryborough, Fraser Island, and other western townships. I am happy to travel to most areas, so please enquire.
Your Special Day may be a Beach Wedding, Botanical Garden Wedding, Farm Wedding or on a Boat on the spectacular Sandy Straits, or at Home. The choices are many.
As a  full time Wedding Celebrant, I am passionate about providing the best possible experience for my clients. I love my work. I bring my professionalism, experience, organisation, sense of humour, dedication and offer a relaxed, stress free ceremony.
Your Wedding - Your Way
Our initial interview will be to get to know each other and is a NO OBLIGATION meeting. You asses my suitability and comittment to looking after your special day. Your Wedding Celebrant needs to be a person you trust and are comfortable to talk to, who is happy to listen and implement your wishes. Your Wedding Celebrant will be able to create your Wedding Ceremony, ensuring it is personal and individual as you are.
I only book one ceremony a day. This ensures my total commitment to you. Your ceremony will never be rushed, because it is YOUR SPECIAL DAY. It will be relaxed and memorable for all the right reasons.
After the ceremony I forward the paperwork to Births, Deaths and Marriages for registration.
If changing your name after marriage, I will lodge the application on your behalf to receive your certified marriage certificate or you can apply separately at a later time.
Testimonials, click on above.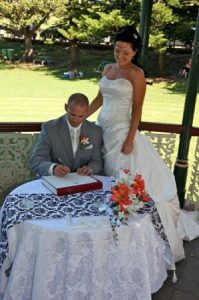 Dear John, what can we say, but our ceremony was exactly everything we had hoped for.
John,you took the time to always ensure that we were comfortable with every part of our ceremony,and always assisted us with coming up with ideas we hadn't thought of. We particularly enjoyed the opportunity to include our mothers in the ceremony.
Thank you for the wonderful job you did listening to our requests and assisting us to create a memorable ceremony that was enjoyed by not only us but all of our family and friends.
Alayna and Jon.
Thankyou for being a wonderful celebrant.Your professionalism and outstanding service ensured our ceremony ran smoothly.
From the first day we contacted you,your easy going nature and great organisation made it a delight working with you.
We would highly recommend you to anyone. Thank you for making our special day perfect.
Jade and Phil.

Form Downloads
Helpful Links
Attorney General's Dept.
Fraser Coast Regional Council
Births, Deaths & Marriages
Marriage Certificates
My Guarantee
A choice of ceremony styles to suit individual needs
Service quality surpassing your expectations of excellence
Open communication between booking and your ceremony
Service quality to surpass your expectations
Your ceremony crafted with attention to detail and depth
The ultimate decisions relating to your ceremony will be yours
Your ceremony performed with professionalism and warmth and in accordance with legal requirements