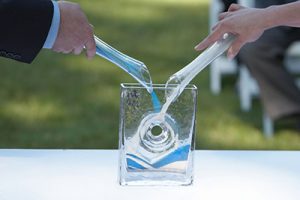 The use of rituals in wedding ceremonies may add a new dimension to your ceremony and provide a lasting memory for the bride and groom and all those attending the ceremony.
There many types of suitable rituals all aimed at enhancing your special day, bonding families and couples together. 
There is much conjecture about where the Sand Ceremony originated and dated from. Some believe it is a twentieth century phenomenon, while others claim it has been around for hundreds and perhaps even thousands of years.
Its probable that the exact origins of the sand ceremony will never be known, however history shows us how universal its symbolism is to the human spirit.
The concept of mixing different colours of sand to keep as a momento of the ceremony is found in cultures all over the world including Tibet, England, Japan and Aboriginal Australia, with the common denominator reflecting the bonding of life.
The coloured sand is housed in glass containers separately which in itself is significant since glass is made of sand. The 'sands of time' are melted together to form a vessel and are a reminder to the couple of their eternal love.
The contemporary wedding sand ceremony usually takes place just after the couple have been pronounced husband and wife and represents their first task together as a married couple.
An example of a simple sand ceremony
A clear glass vial or vase is displayed beside or near the ceremony location which is labelled or engraved with the couple's names, initials or wedding date.
Smaller glass vials which contain different colours of sand are placed beside the larger empty container. The colours might be chosen to suit the wedding theme colours if any, or to represent special meanings for the couple.
The couple and/or family members take turns to pour the sand from their representative vials into the larger receptacle which creates a layered effect.
Finally, the couple pour their sands together so that the colours combine and can't be separated which symbolises their unity.
The main vial can then be sealed and will make a lovely keepsake of your special day.
Wedding sand ceremonies are perfect for beach weddings where sand from the location can be used and combined with other sand colours.